Lush Lip Scrub In "Bubblegum" || Review
June 03, 2013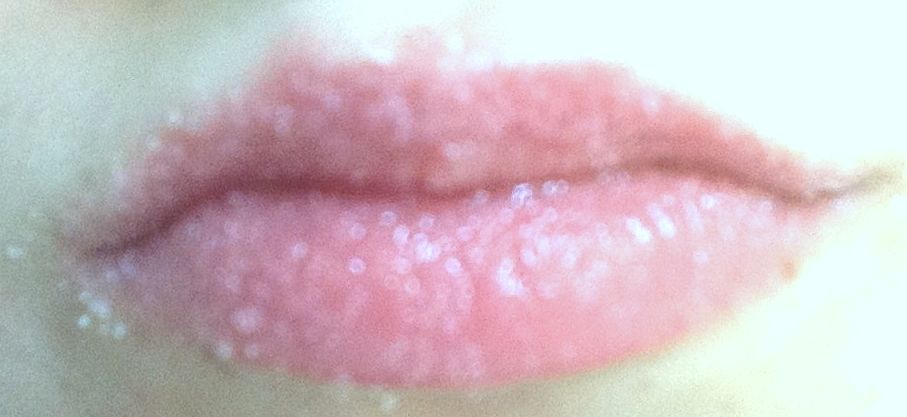 This is what it looks like on my lips
So a while back, I purchased this little gem from Lush, it's the Bubblegum Scented/flavoured Lip Scrub.
Firstly, it smells
amazing
. It does what it says on the pot, and smells like candy, and bubblegum, and everything sweet mixed up together. It is lush. (excuse the pun). It reminds me a little bit of their Snow Fairy scent, which I also love.
On the other side of the pot it says you can lick it off your lips (yes, really), and wow, it tastes so lovely! Sometimes I put it on, just so I can lick it off! (I wish I was joking..) It tastes exactly as it smells, if that makes any sense.
It was a little on the pricey side at £5.25, as as much as I do love it, I feel like it was a teeny bit expensive, for what you get, but then again, Lush is like that I guess, but it just smells and tastes so damn good!
Onto the actual product then..
I think it worked really well in scrubbing my lips, and it made them feel tingly and smooth, and truly scrubbed, so I can't fault it there.
However, it was a little hard to apply, as you can see by the photos, it literally was just little grains of sugar, and all of the ingredients, so it was quite awkward to use, as you have to use your fingers.
Also, as you can lick it off, I found myself doing that on regular occasions. But I thought that licking your lips was bad for your lips and made them dry? (That's what I was always told anyway!) So I stopped that. I now wash it off, which works better.
On the downside, one thing I hated about this product was that If I rubbed it onto the skin around my lips accidentally, it did make my skin go into a kind of rash, and little bits peeled off. (TMI I know) So I have to be really careful when applying it.
So overall, I thought it was a really enjoyable product, and I think I will be repurchasing it when I run out, because I liked it that much!
I would give it 4 out of 5 stars :)
If you would like to purchase this product, then i'll put the link to the bubblegum one below. You can also pick it up in all Lush Stores in a range of flavours, including Popcorn!
https://www.lush.co.uk/product/67/Bubblegum-Lip-Scrub
Love always,