Bourjois Colour Boost Lip Crayons || Review + Swatches
August 17, 2013
Nobody can deny that lip crayons are everywhere right now. It all started with Clinique's chubby sticks, and now several brands, including Models Own and Revlon have their own version, and finally, Bourjois do too!
Now don't get me wrong, I love the Bourjois powder products, such as their eyeshadows, blushes and bronzers, but in the past, I haven't been a fan of their lip products.
However, in one of Zoella's recent videos (
here
) she raves about these lip crayons (her particular favourite was "Peach On The Beach" and as much as I loved the name, the actual product would was me out beause it was so pale). I had to try them, because they looked amazing. So the next time I was in Boots I picked ths one, in "01 - Red Sunrise" . Can we just think for a moment about how adorable the name is?!
I really love the packaging on the product. I think it's simple, but modern, and I love how the silver contrasts with the raspberry colour. It's also a great size and shape, so it can easily fit into my handbag. It's my new handbag essential!
Now onto the product itself. On the package it claims to:
-Last 10 hours
-Be waterproof
-Have SPF 15
It doesn't last ten hours, but it does last a pretty long time! I had t reapply it maybe 3 hours after first putting it on, and by that point, it had actually faded into a really nice colour.
I think it is pretty waterproof, as when I drunk, it stayed on my lips, and as for the SPF factor 15, well that's always a good thing, isn't it? Also, the product is very moisturising on my lips (unlike the Models' Own one, which in my opinion, dried out my lips quite badly)
As you can see from my (terrible) swatch above, the colour is pretty build-able. The top swatch is just with one swipe of the crayon, and the second is with a few swipes, so it suits everyone!
The colour range itself is pretty good considering there is only 4, as there is an orange, a pink, a red (and I have totally forgotten the other one). I got the red-pink one, as I thought it would be the most wearable fr my skin tone, and i'm a sucker for red. I was actually hoping there would be a bold red for me to try, but this was the closest they had, and although I absolutely love it, I hope they bring a bright red out!
With only a little bit of product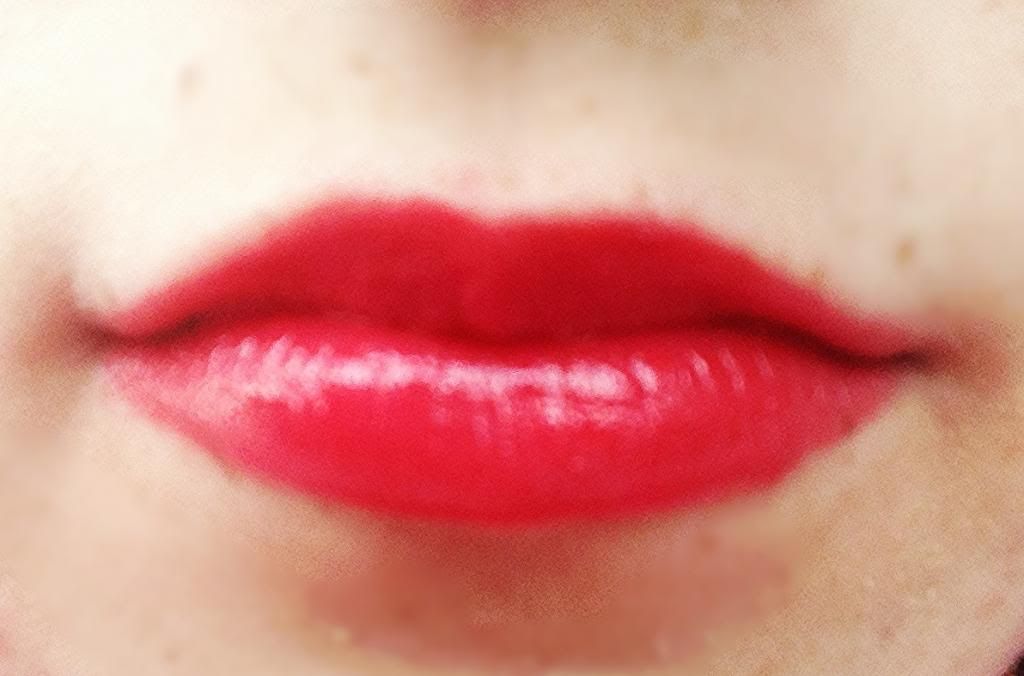 After the product was built up more, you can see that it's quite a bit bolder.
Conclusion:
I love the product, and my only critique would be that they don't have a bright red!
The product is moisturising, strong colour, long lasting, waterproof to an extent, and I now find myself reaching for this particular colour over all my other lipsticks, which is unusual for me, as I usually chop and change every day.
Love love love this product, and I would give it 4.5/5 !
youfounderin x