Simple Spotless Skin Anti-Blemish Moisturiser || Review + Swatches
July 23, 2013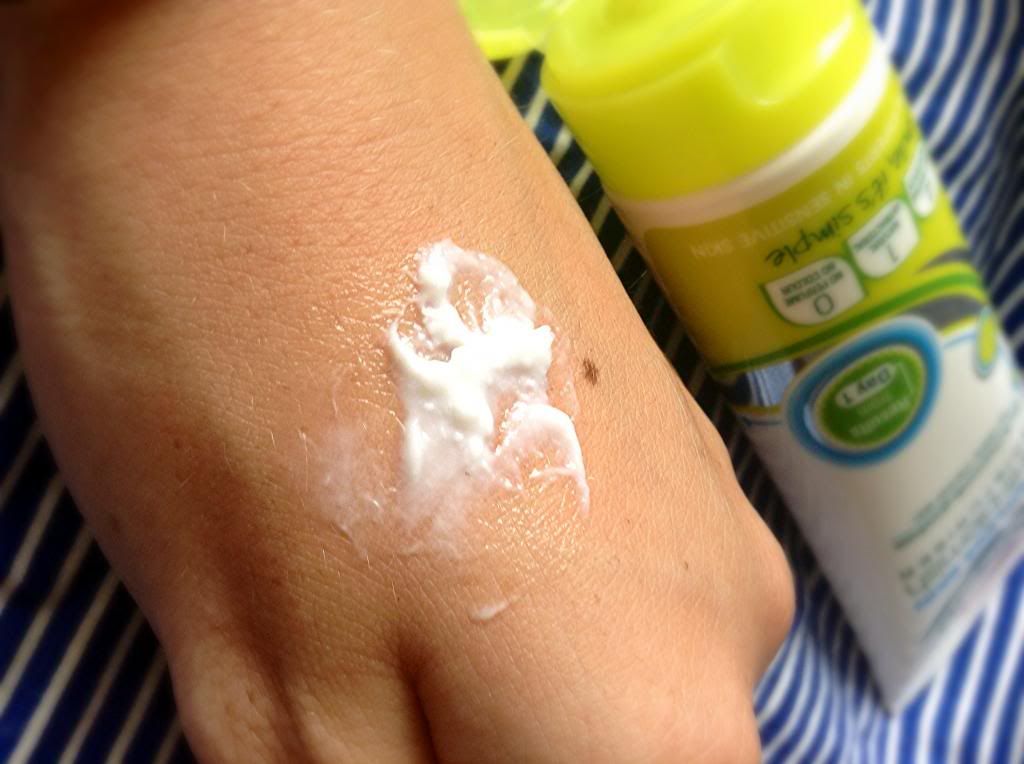 (it says 4 spot fighting ingredients, 1 natural anti-bacterial, 0 no perfume, no colour)
Hey ladies! Today's post is another review! Before buying this, I read up on some reviews online, and let me tell you, they were very mixed! However, I went ahead and purchased it none the less, as on a whole, I love Simple's products. Plus, I love trying out new products, and I was in desperate need of a new moisturiser, so why not?
As I mentioned, i've liked most of the products that i've tried from Simple so far, so I had high hopes for this product. My skin breaks out really bad, so when I saw that this was supposed to help reduce spots, of course it was going to interest me.
My first impression was that I loved the packaging. I know it doesn't effect the actual product, but if it's visually appealing, then i'm going to like it before i've even tried it. (I'm hoping to study design at university, so i'd like to think I have a relatively good eye for design.)
When I squeezed a little bit out of the tube, I first noticed that it was pretty runny, almost too runny. However, I went ahead and put it on my face. Unlike what a lot of reviews said, I thought this absorbed really quickly, feels refreshing on my skin, and I almost instantly had a healthy glow. Like all Simple products, it doesn't have a smell, which in my opinion is a good thing, as if products are fragranced a lot of the time this means they have added ingredients that are bad for your skin. Definitely not good if you have spot prone/sensitive skin like myself!
I use this product morning and night
(I know, I know, I really need to get a night time moisturiser)
, and in this case, a little bit goes a long way.
Within about a week or so, I started to notice a difference in my skin. It says on the front of the tube "Results from day 1". Like when most products say this, it definitely did not make a difference from day one, but about after 7 days or so.
I was breaking out less, and my skin felt less oily (does anyone else get really oily skin under their eyes? I cannot stop it!). However,contrary to a lot of reviews, it does leave my skin a little too shiny, not oily, just
shiny
(despite many saying that it keeps it matte) sometimes, but that is easily covered with powder. It also might just be my skin type, so that's not saying that it will be shiny for you reading this.
I love how Simple's products can guarantee that they have no bad things in their products, and they always tell you exactly what it is doing for your skin on the front of the bottle, like you can see in the photos above.
As for the price, I think it's really affordable. At under a fiver, for a decent moisturiser, you can't go wrong really! This is great for people on a budget (such as myself!)
Overall it isn't the
best
moisturiser I've used, but for the price, and the amount you get, it's worth the money, and I will definitely be re-purchasing it to use on a daily basis. It doesn't prevent spots, but it does help to get rid of them.
I would probably rate it 4/5.
If you are interested in purchasing this product, here is the link! -->
{click here}
youfounderin x