BIG Christmas Art Project! || Update 1
December 03, 2013
Day three of Blogmas, and today is a post that I have been very, very, very excited to put up, because I am working so hard on this project. As I haven't finished my project, i'm going to split this post over a series of updates, over the month of December.
I should probably tell you what my project is, shouldn't I?
Well, I am an artistic person, and I want to pursue a career in this area, so I picked Advanced Higher Art and Design (for those of you who don't live in Scotland, it's basically a step higher than A levels? I think.. well, it's basically the highest level of education that is possible to do before you leave school, if that makes sense.) All of the Advanced Higher pupils get to create a painting, for the main hall, which gets decorated for Christmas. Now this isn't any old painting, this is a HUGE painting. I can't explain the size, so i'll just show you a photo.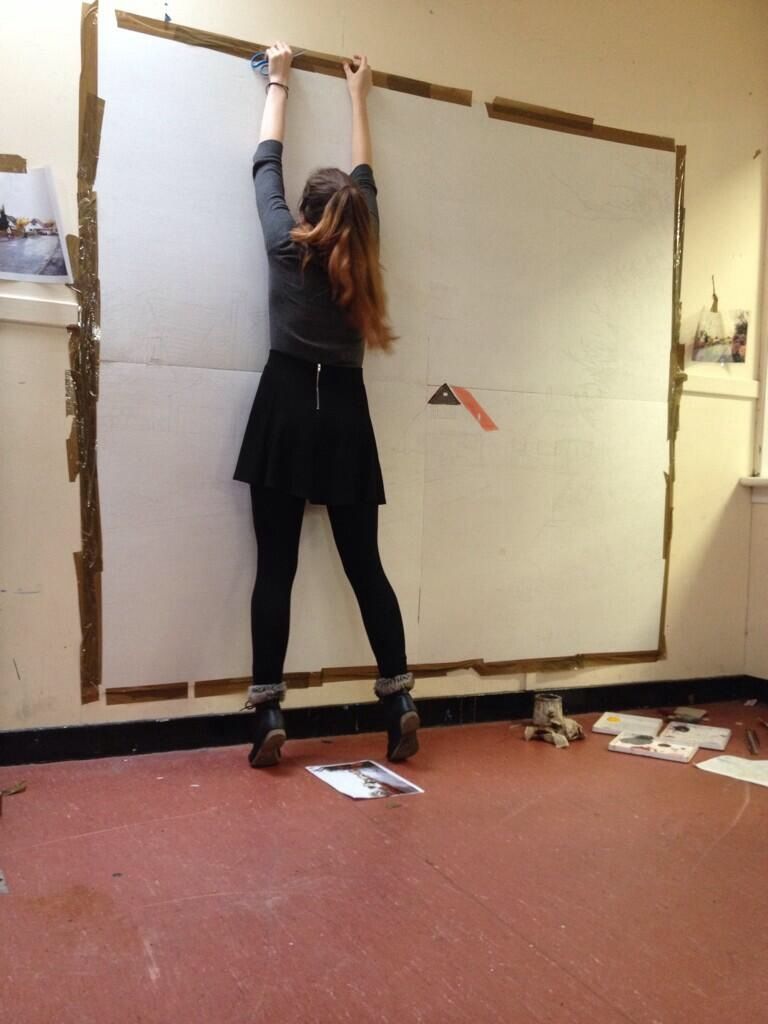 my friend took a sneaky photo of me taping my photo, but i'm literally stretching to reach the top, it's that big (i'm 5ft3)!
Pretty big, right? Especially for a small person (5ft3ish)! They were made from four bits of card, glued together with strips of card on the back, then taped to the wall with a hell of a lot of duct tape! Because it's such a large scale, it would be near to impossible to draw out in exact proportion, so we were allowed to print off our chosen photo onto acetate, project it, and trace it on to the huge sheets of card. This sounds like a cheaters way to do it, but tracing it is harder than it looks, and so time consuming!
Every year, there's a theme, and this year it was "Home For Christmas". Our painting has to link in with this theme, but also with our own personal them for our folio, which gets sent away to the exam board. (mine is Journey's). I picked to draw a street scene, with a person walking away, presumably going "home for Christmas". This sort of links in with my exam theme, but I put a map behind the original photo, and i'm going to put bits of the map in the sky, to signify a journey.
Below is a few photos of what the set up looks like, and what exactly it is that i'm drawing.
a bit blurry, but this is what i'm drawing.
the acetate image on the projector, ready to be drawn
The very hi-tech, expensive projector and stand, haha
The image projected, ready to be traced!
So that's the end of my first update, there will be another in a few days, which will show the first part of the actual painting, yay!
Happy blogmas day 3! See you tomorrow!