10 Under £10! || Lip Products (SBBC)
September 20, 2013
I love lip products, and I don't think that will come as a surprise to anyone. I love how they can completely transform a look, whether it be a bold red, or a peachy nude.
Another thing I love is cheap, but great lipsticks, and I rarely (aka never) buy high end products, as in my opinion the cheaper ones are just as good!
I've rounded up ten of the best (in my opinion), lipstick products, so i'm going to share them with you!
1. Rimmel Kate Moss Lipsticks
These are absolutely amazing, as i'm sure you all know, so i'm pretty sure I don't need to explain my love for them. And they are only £5.49! My favourite shade is 07, which I actually did a detailed review on
here.
2. MUA Lipsticks.
These are pretty good too. They aren't the best, but they are quite pigmented, although they do dry out my lips after a bit. However, for the price, they are incredible. They're only £1! Bargain!
3. Bourjois Colour Boost Lip Crayon
Over the past month I have been wearing this on my lips pretty much every day without fail. (In particular 01 - Red Sunrise, which is the third one along) I love these so much, and even though they're a little bit pricier (at £7.99), they are definitely worth it!
4. Rimmel Lasting Finish Lipsticks
In my opinion, these are very under-rated. I really love them! They aren't as good as some of the others in this list, but I do love them lots. They are quite glossy though, so if you like your lips to look matte, then these are not for you. These cost the bargain price of £4.50.
5. Rimmel Apocalips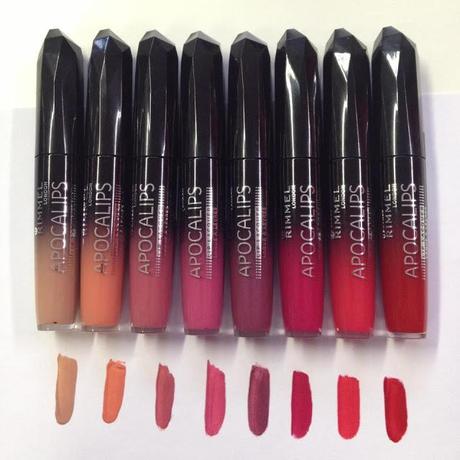 I bet you all wondered how long it would be until these were in this list. I am in love with these (Particularly "Big Bang", the bright red one. They are around the £6.50 mark, but again, totally worth it! The only critique I would have is that the colour range isn't brilliant. We need more colours!
6. Sleek True Colour Lipstick
Annoyingly, i've actually misplaced the one that I own from this brand (I had Papaya Punch, a gorgeous coral), so i'm going to have to repurchase it, but that doesn't make me hate them, because I don't. The colours are so pigmented, and they last for ages on your lips! You can pick these up for only £4.99!
7. Revlon Lip Butter
These are a beauty bloggers favourite, and I love them too. I actually haven't purchased one in a while, but I think that I will have to finally buy another one! (Except everyone keeps telling me that I have too many lispticks, oops). These are a bit pricier at £7.99.
8. Barry M Lip Paint
Before buying this, I had heard mixed reviews from beauty bloggers. I went out and bought it, and although I don't love it, I do like it, and I think that it is great for the price you pay. (£4.50)
9. Maybelline "Baby Lips".
Now I said in an earlier post that I didn't see the hype in these products, and in a way, I still don't, but i've been putting on the horrible pink colour before I go to bed to act as a lip balm, and it does work really well. I wouldn't wear it out, but it's nice as an ovenight thing, and it's only £2.99!
10. Maybelline Colour Sensational
For some reason, when i first bought one of these, I wasn't expecting to like them, i don't know why, but I was. However, I was completely wrong! I do like them a lot, maybe not as much as some others on this list, but i like them all the same. These have a standard price of £7.19.
Aaaaand that's me done! So do you agree with me on any of these products? Do you have other products to recommend? I'm always looking for new things to discover and try!
(Disclaimer: None of the above photos are mine, except for the first one.)
Contact me!
Email: erindocherty3@gmail.com
Tumblr:
http://iwishmyeyescouldtakepictures.tumblr.com/
Instagram:
http://instagram.com/youfounderin